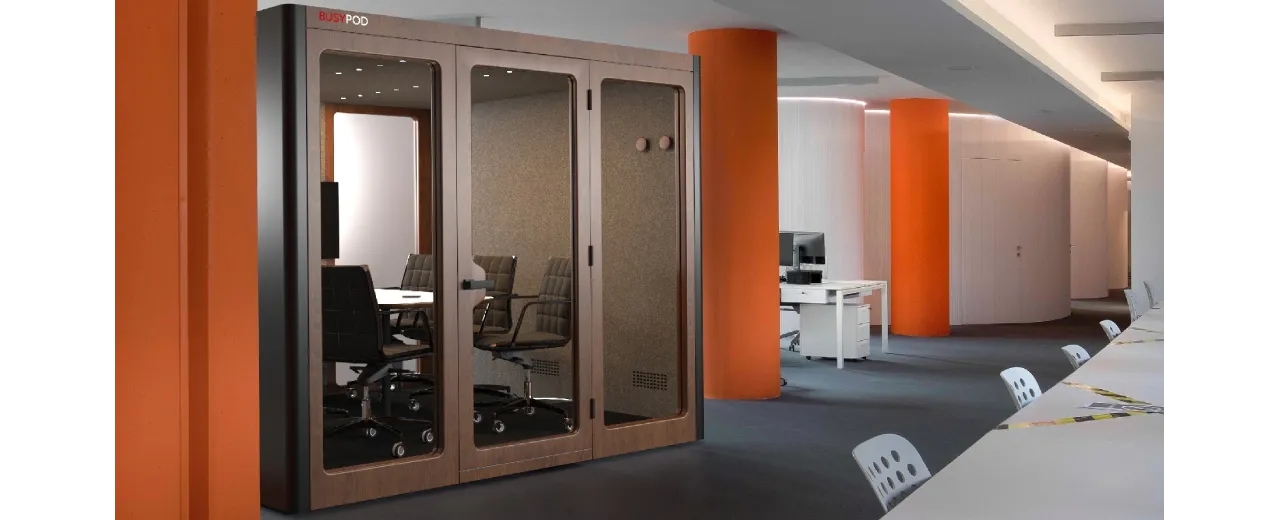 Meeting Room Alternatives? Try a Portable Conference Booth
An essential part of any modern workplace is meeting rooms. They are crucial for achieving efficiency and productivity in your workspace by providing teams and individuals with a dedicated collaboration space.
We shouldn't forget that meeting rooms come in different shapes, colours and arrangements. A careful design and utile decoration are vital to creating a functional meeting room. Thankfully, BusyPod is here to help you with its utile meeting room alternatives. With our extensive collection of portable work and meeting pods and open meeting rooms, you can achieve optimal comfort and productivity in your office.
Boundless Creativity
Turning one of your office's rooms into a meeting space might be a perfect way to increase productivity. Nevertheless, refurbishing a room is usually an expensive and tiring process. BusyPod's meeting pods, on the other hand, offer you effortless use and an opportunity to work on your creativity. You can decorate them as you wish and place them wherever you want.
A convenient meeting room is the only way for your employees to reach their full potential. Our portable rooms highlight comfort and bring it together with creativity to inspire your teams to come up with the greatest ideas and solutions. Plus, thanks to their nearly soundproof design, BusyPod conference rooms allow you to focus on your work without being disturbed or distracted.
Maximum Performance
Our meeting pods are carefully designed to allow optimum seating and maximum performance. There are power sockets and a screen to make presentations or arrange online meetings. Also, BusyPod meeting pods have ramps for disabled access, providing accessibility and convenience for your whole team.
Eco-Friendly
At BusyPod, we understand the importance of the future; that's why we hold sustainability in high regard. We aim to employ recyclable materials and eco-friendly approaches in all our production processes, which include everything from high-quality phone booths to functional portable conference rooms.
Customisable
BusyPod is where ideas come true; if you want to design the ideal meeting room for your team, we offer complete customisation. If you have a picture of the design you want, you may use our customisation tool to make it a reality. Our booths can be fully customised, including their colour, material, and size.
FAQ
Can I carry this anywhere in my office?
No. Portable conference rooms can be placed wherever you want, yet if you want to relocate them, you'll have to disassemble them first.
Is there a ventilation system?
Indeed, the portable conference rooms feature ventilation fans, allowing you to host a comfortable meeting even in hot weather.
Is there a heating and cooling system inside?
BusyPod's booths have air circulation systems that replace the air inside the conference room two to three times per minute.
Is there a fire system?
Yes. The meeting rooms feature a fire suppression system with fire sprinklers and warnings. Also, you can easily integrate the meeting pod into the office's fire system.
What types of portable meeting rooms do you offer?
BusyPod has various options for portable meeting rooms, including BusyPod Medium Meet for two and BusyPod Large for four people. There are also Work and Meet Pods that six to eight people can use.