Work & Meeting Pods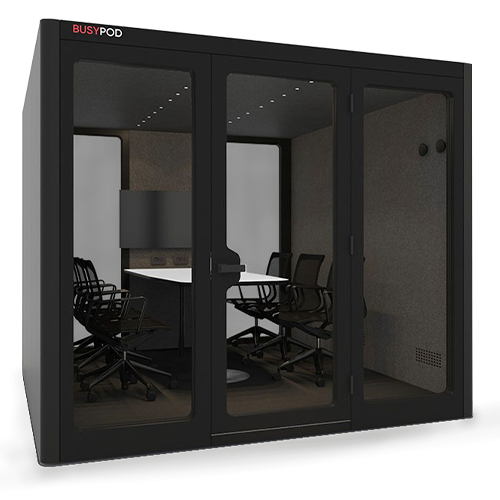 BUSYPOD XLarge meeting rooms are the ideal working environment for your meetings, whether physical or online. It gathers your team of six to eight people around a large table where everyone can fit comfortably, offering optimum space for everyone to move freely. By organizing your meetings with a screen placed on the back wall, you can enable everyone present physically or online to share their ideas.
Other Options
---
Have you ever needed a private place to hold critical meetings, somewhere you can run away from the office clutter and focus on perfecting your operations? If your answer is yes, it might be time to have new work and meeting pods in your office! BusyPod's closed meeting pods provide an affordable and functioning space for your team to carry out their projects more efficiently.
Personalized Work and Meeting Pods
We know your brand identity is vital. That's why all our meeting office pods can be personalised in accordance with your needs and requests. This way, you can strengthen your trademark and create the perfect working area for your employees.
Acoustic Work and Meeting Pods and Eco-Friendly Design
The office is where we work our creativity, imagination, and skills to come up with innovative new ideas. Nevertheless, sometimes, offices can be noisy, and co-workers might be disturbing. Thankfully, with their soundproof design, BusyPod's acoustic meeting pods offer a disturbance-free working space.
Furthermore, we produce all our work and meeting pods without harming or polluting nature, thanks to our eco-friendly manufacturing processes.
TECHNICAL FEATURES
1) 20 Led Ceiling Light (1 watt/per)
2) Busy Warning Light
3) Ventilation Fan
4) Coat Hangers
5) Power Module:Power Socket, USB, Wireless Charger, Cat6
6) Ergonomic and Custimazed Table
7) Sound Controled Laminated Glass
8) Natural Wood Laminated Framed Door
9) Matt Black, White or Metalic Handle
10) Acoustic Laminated Glass or Back Panel With Felt
11) Acoustic Felt Side Panels
12) Screen
13) Shiftable Carpeted Floor
14) Fire Sprinkler and Warning System
15) Ramp for Disabled Access
MATERIALS AND COLOURS
EXTERIOR COLOURS

DOOR FRAME AND TABLE MATERIALS

FELT MATERIALS

UPHOLSTERY MATERIALS

What are the Features of Office Work and Meeting Pods?
Leading sound insulation
With leading sound insulation, our portable meeting pods let you focus on your work without being disturbed. The high-tech material used in the making of our booths increases their acoustic features and creates a perfect place to brainstorm and exchange ideas.
It allows you to escape the office clutter and find a room for solitude.
While offices are supposed to be ideal workplaces, working with an office full of people might be tiring. Especially if you're working in a key position or work that requires you to be creative, the office clutter might block you from being productive. Nevertheless, you can trust our portable meeting pods to solve this problem! A portable meeting pod gives you the privacy you require and allows you to philosophise about any important issue without being interrupted.
DIMENSIONS

Designed to support enjoyable conversations and meetings.
Small meeting pods from BusyPod are specifically designed to support entertaining chats and meetings with your team. You can use our work and meeting pods to work on even the most sensitive projects without fear of revealing any details. Plus, the comfortable seating and additional functions will help your team spend long hours without getting tired.
Configure Your Way: Colour, Material, and More
With our customisation tool, you can easily configure all the details of your work and meeting booths, from colour to material. The simple modification option allows you to design the ideal meeting space for your team.
We create a personal space for everyone in the open office and expand the possibilities of your workspace.
With our affordable work and meeting pods, you can provide the personal space your employees require while also increasing the efficiency of your organisation. Check out our vast product catalogue, from open meeting rooms to office phone booths, to buy work booth that'll meet all of your team's needs.
Work & Meeting Pods FAQ's
Other Products
BUSYPOD Medium Meet
BUSYPOD Medium Meet provides you and your colleagues with an efficient working environment where you can get away from the bustle of the office environment in one-on-on...
Office Phone Booth
The most efficient way of working is the suitable working area with its perfect dimensions. Although open offices are seen as a suitable working environment, it becomes difficult to focus on your work...
Fill in your information so that we can send size documents.