Office Phone Booth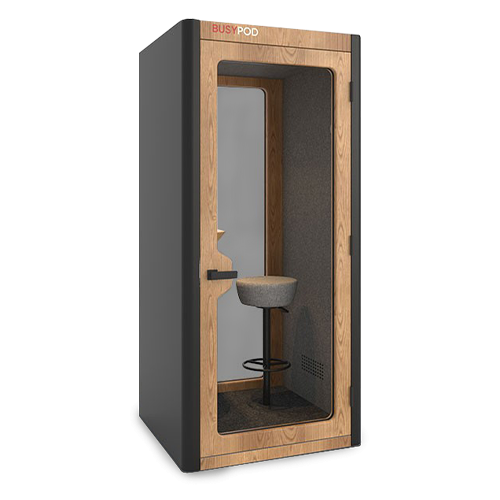 Office Phone Booth
The most efficient way of working is the appropriate working space with its perfect dimensions. Although open offices are considered a suitable working environment, it becomes tough to focus on your work due to environmental factors and the sounds around you. BUSYPOD Phone Booth is built for precisely these problems. It is soundproof and helps you to show interest in your business as you wish. Of course, you deserve freedom, confidentiality and comfort. BUSYPOD provides you all of these in a compact place with many choices of colours and materials for BUSYPOD design.
Office environments are meant to be productive working spaces, yet sometimes an open office environment can be unexpectedly distracting. And when we need to have a phone call or just focus on a particular subject, we might need an area nobody can disturb us. Thankfully, BusyPod's soundproof office phone booths offer an easy solution for creating a quiet space in your office.
Personalized Workspaces and Office Phone Booths
Personalized workspaces are perfect for creating a warm atmosphere within your office. It is no secret that people can work more efficiently when they're comfortable environment. And phone booths in office are ideal productivity boosters as they upgrade your workspace to give people personal space anytime they need.
Acoustic Office Phone Booths and Eco-Friendly Design
BusyPod's soundproof office phone booths are made of acoustic material; this way, you can have a phone call or focus on your work without any disturbance. Plus, we produce our phone booths in an eco-friendly manner without harming nature.
What are the Features of Office Phone Booths?
Leading sound insulation
Our room office phone booths stand out with their high-quality sound insulation. Thanks to the acoustic felt in their interior walls and ceiling, the cabin doesn't let any noise in or out.
Durable materials and special equipment
BusyPod portable office phone booths are made of durable materials and equipped with high-quality features, such as a well-functioning ventilation and gaseous fire suppression system. Thanks to its superior design, you can use your phone booth for years without maintenance.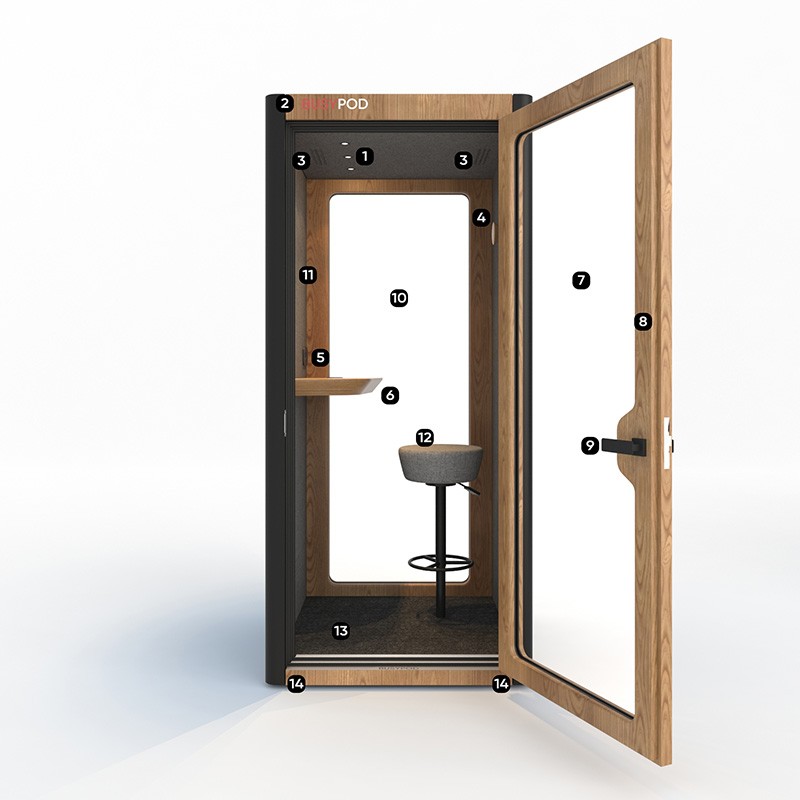 TECHNICAL FEATURES
1) 3 Led Ceiling Light (1 watt/per)
2) Busy Warning Light
3) Ventilation Fan
4) Coat Hanger
5) Power Module:Power Socket, USB, Wireless Charger, Cat6
6) Ergonomic and Customized Table
7) Sound Controlled Laminated Glass
8) Natural Wood Laminated Framed Door
9) Matt Black or White Handle
10) Acoustic Laminated Glass or Back Panel With Felt
11) Acoustic Felt Side Panels
12) Floor Mounted Height Adjustable Stool
13) Shiftable Acoustical Carpet
14) Hidden Casters For Relocate
15) Fire Sprinkler and Warning System
16) Ramp for Disabled Access
MATERIALS AND COLOURS
EXTERIOR COLOURS

DOOR FRAME AND TABLE MATERIALS

FELT MATERIALS

UPHOLSTERY MATERIALS

Improves work efficiency and focus
In an office, efficiency is more than a fancy computer or well-organized seating; you need to ensure that people are comfortable and relaxed. And our office phone booths serve exactly this purpose; they increase office productivity and focus by establishing a calm environment where people may have personal privacy.
It allows you to escape the office clutter and find a room for solitude.
Even though offices are supposed to allow you to be productive, it's not hard to get distracted by a cluttered office. Thankfully, our portable phone booths for office create a haven where those who are easily frustrated or disturbed can find solitude.
Designed to support enjoyable conversations and meetings
You can use our phone booths for office to have enjoyable conversations and undisturbed meetings, whether with a customer, your employer, co-workers, or a loved one.
Configure Your Way: Color, Material, and More
We want to provide the best office phone booths; to do so, we allow our customers to design our products to their needs. You may easily customize your phone booth's dimensions, color, material, and other features using the configuration tool we created.
DIMENSIONS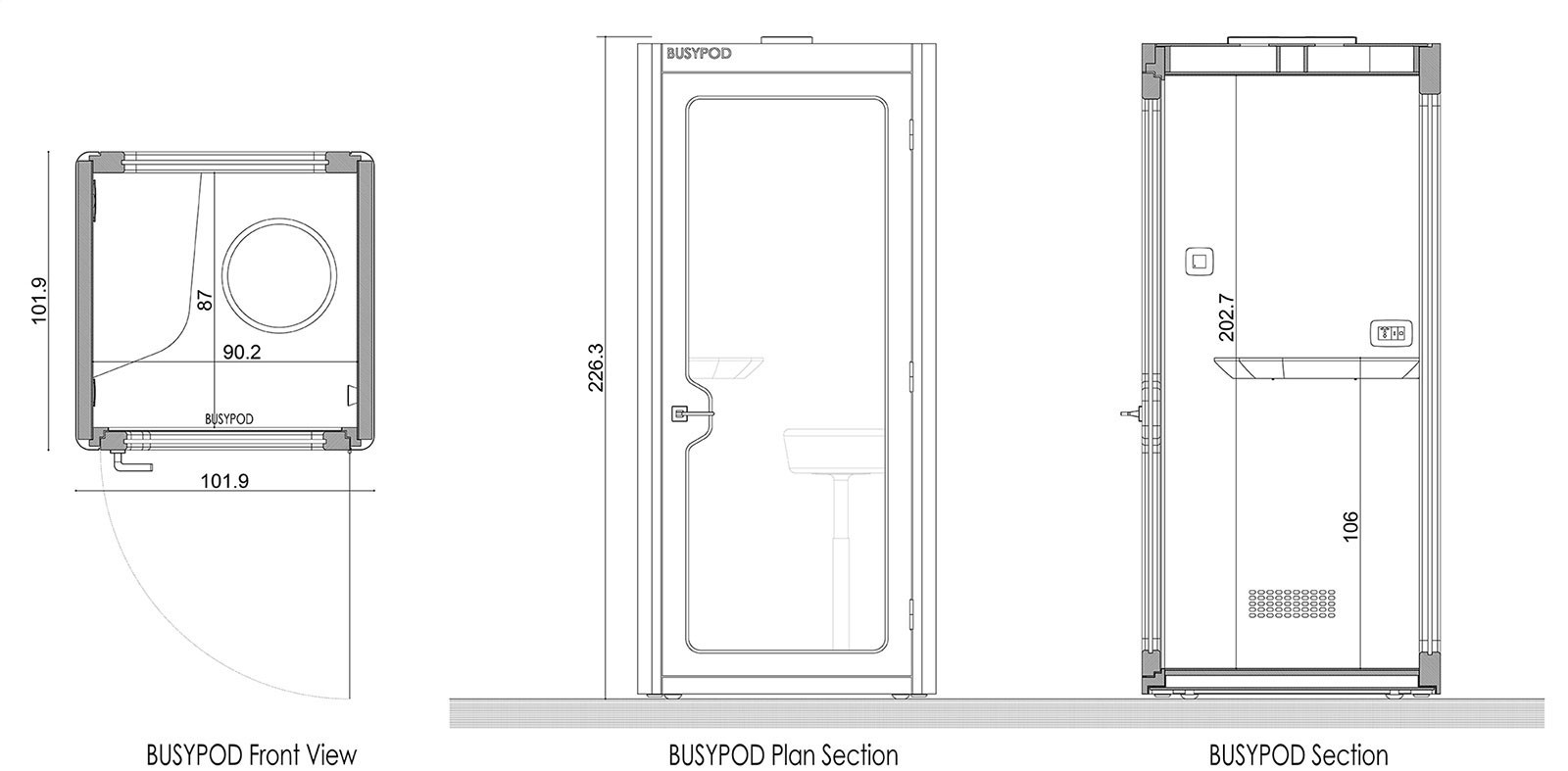 We create a personal space for everyone in the open office and expand the possibilities of your workspace.
Offices aren't usually quite personalized spaces. And when most people think of an office, they usually imagine a crowded and boring place. Nevertheless, it doesn't have to be like that. At BusyPod, we aim to change this by making creative tools. Our open meeting room options, work and meeting pods, and other products boost efficiency in your office.
With portable phone booths in office, you can give everyone their own space while enhancing productivity and expanding the possibilities of your workspace.
Other Products
BUSYPOD Medium Meet
BUSYPOD Medium Meet provides you and your colleagues with an efficient working environment where you can get away from the bustle of the office environment in one-on-on...
BUSYPOD Medium Work
It is designed to provide a large and comfortable area where you can focus on your work in your single work. As in all our products, sound insulation is given importanc...
Fill in your information so that we can send size documents.