Other Options
---
Work and Meeting Pods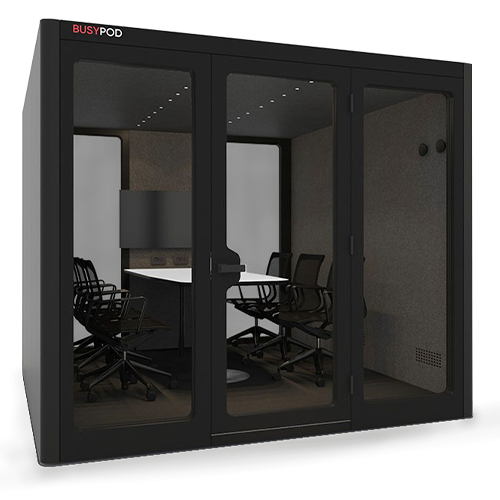 Work and Meeting Pods
BUSYPOD XLarge meeting pods zijn de ideale stand voor uw vergaderingen, zowel aanwezig als online. Het biedt u een optimale ruimte waar iedereen zich vrij kan bewegen door uw team van zes tot acht personen rond een grote tafel te verzamelen waar iedereen comfortabel kan plaatsnemen. U kunt uw vergaderingen inrichten met een scherm op de achterwand, zodat alle aanwezigen, fysiek of virtueel, hun eigen ideeën Kunnen delen.
TECHNISCHE KENMERKEN
1) 20 Led-plafondlamp (1 watt/per)
2) Drukwaarschuwingslampje
3) Ventilator
4) Kleerhangers
5) Voedingsmodule: stopcontact, USB , draadloze oplader, Cat6
6) Ergonomische en op maat gemaakte tafel
7) Geluidsgestuurd gelaagd glas
8) Natuurlijk hout gelamineerde framedeur
9) Mat zwart, wit of metalen handvat
br />10) Akoestisch gelaagd glas of achterpaneel met vilt
11) Akoestisch vilten zijpanelen
12) Scherm
13) Verschuifbare vloerbedekking
14) Brandsproeier en waarschuwingssysteem
15) Helling voor toegang voor gehandicapten
MATERIALEN EN KLEUREN
EXTERIOR COLOURS

DOOR FRAME AND TABLE MATERIALS

FELT MATERIALS

UPHOLSTERY MATERIALS

DIMENSIONS

Other Products
BUSYPOD Medium Meet
Met alternatieven voor werk- en vergaderpods biedt BUSYPOD Medium u comfort terwijl u de zegeningen van de voortschrijdende technologie met de verandering in de sociale orde evalueert. BUSYPOD biedt d...
Office Phone Booth
De meest efficiënte manier van werken is de juiste werkruimte met zijn perfecte afmetingen. Hoewel open kantoren als een geschikte werkomgeving worden beschouwd, wordt het door omgevingsfactoren en de...
Fill in your information so that we can send size documents.